Is it a coincidence or conspiracy?
The new U.S. $20 dollar bill contains
hidden pictures of
the World Trade Center
and Pentagon attacks!
Yes! See for yourself...
1st) FOLD A NEW $20 BILL THIS WAY


2nd) CONTINUE TO FOLD THIS WAY
Compare your fold precisely to this picture.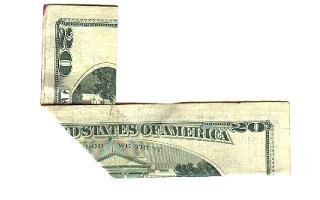 3rd) FOLD THE RIGHT SIDE UNDER,
exactly as you folded the left side.
You'll immediately see the Pentagon ablaze! (Red circle)
4th) NOW FLIP IT OVER AND SEE OTHER SIDE
The Twin Towers of the World Trade Center are
hit and smoking.
What are the odds that a simple geometric folding of the $20 bill
would accidentally contain a representation of both terror attacks?
COINCIDENCE? YOU DECIDE!